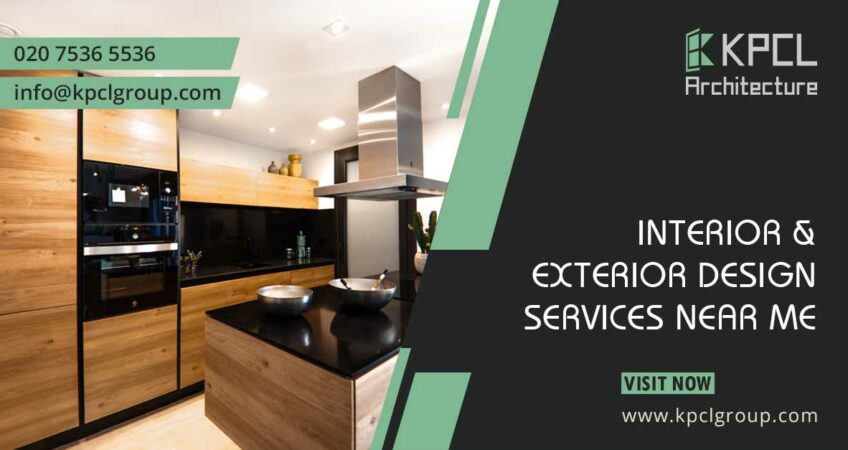 Interior And Exterior Design 
Do you want to construct a good-looking house on your property? Well, interior and exterior design services are just the things you need. However, Constructing a house means giving careful consideration to every single aspect of the design of your building, from the roof to the foundation of your building. Also, everything from electrical work, air quality, and sustainability is required to be planned carefully as per budget.
In addition, Thus you should contact the interior and exterior design company near you for getting the perfect design and plan for your house. From this article, you will get to know about various things related to interior and exterior design services which will help you why are they so important.
What Is Interior And Exterior Design?
Interior designing is the art to design the interior part of the house to get a more aesthetically pleasing environment for the people who will be living in that house. Therefore, interior designers are who researches, plan, coordinates, and manages such enhancement projects. However, Interior design is a profession that consists of conceptual development, space planning, site inspections, programming, research, communicating with the stakeholders of a project, construction management, and execution of the design of the construction.
Exterior designing means designing the outer part of the house. It means how the house should look from the outside. However, Exterior designers are professionals, who produce more and more ideas to make your outdoor design unique, practical, and aesthetically pleasing, and keeping it within budget. In addition, Exterior design provides a sophisticated complement to the architecture of a dwelling, or space. After that, An interior and exterior design service will provide you will with both interior and exterior designers and help you build your dream home.
What Do Interior Designers Do?
An interior designer makes indoor designs that satisfy the client's needs for safety and function. For instance, By the use of furniture, decorations, and functional decor, interior designers can create different types of designs, from beautiful living rooms to offices that people would love to work in. However, there are a variety of areas that interior designers can specialize in:
1. Corporate Design:
Corporate designers create a combination of practical and professional workplaces. Also, They work in different ways, starting from small offices, to very large corporate buildings. Because Their main focus will be meeting their client's desire and it does not matter how small the space is. Corporate designers also work to create spaces, especially for environments that contribute to good health for employees confined to offices for most of the day.
2. Healthcare Design:
Healthcare designers plan and develop physicians and dental offices, hospitals, healthcare centers, and residential care facilities. However, These types of designers specialize in evidence-based design and they make decisions based on the best available information from research and project evaluations. In addition, Having all kinds of data and research already available helps interior designers to plan positively and welcoming spaces for patients, residents, and facilities.
3. Kitchen And Bath Design:
Kitchen and bath designers help in creating, remodeling, or developing the kitchen and bathroom area of a client's home. However, They have a wide knowledge of cabinets, fixtures, appliances, plumbing, building materials, and electrical solutions which are essential for designing.
Also, The themes, colors, patterns, and room layout is made and discussed with the client whether they like it or not. However, Once the project is started, it will be the responsibility of the designer to keep all the expenses within the client's budget.
4. Sustainable Design:
A sustainable designer's goal is to use products that are not harmful to the environment, Therefore, to reduce energy consumption and waste, to improve indoor air quality, to improve energy and water efficiency, Also, to design with efficient use of space in mind.
How Much Do Interior Designers Charge?
Home designer charges are based on their client's needs and budget. Also, Some designer has a fixed rate, some charges you for per room, per square feet, per hour, per day, or even per furnishing. If we consider per hour, then an average cost to hire a designer is between $50 to $200 and if furniture and accessories are added it will charge you extra dollars. In addition, most people spend $1,893 to $11,180, or $5 to $12 per square foot for consultation, design work, management, and furnishings. Here is a typical list for interior designing prices:
| | | |
| --- | --- | --- |
| Charge Type | Cost Range | Average |
| 1-Hour Consultation (In-Home) | $50 – $450 | $200 |
| Per Hour | $50 – $450 | $150 |
| Per Square Foot | $5 – $17 | $9 |
| Per Room (+ Furnishings) |  $1,000 – $12,000 | $3,200 |
| Per Room (Design Only) |  $449 – $1,499 | $975 |
| Cost Plus (Designer's Markup) | 17% – 45% | 30% |
| Markup on Retail | 10% – 35% | 22% |
| Percent of Construction Cost | 10% – 30% | 20% |
| Average Total Cost | $1,893 – $11,180 | $5,406 |
Who Are The Top Interior Designers?
If you need the best design for your interior home then after that, you need to have the top interior design architecture because the better the designer the more beautiful your interior will look even if it will cost a bit. Here are some of the top home interior designers:
# Richard Meier & Partners Architecture
# Emily Sujohn Barman Inc
Do Interior Designers Work Inside Or Outside?
Interior designers work in various kinds of things. In other words, Interior designers plan and design the interiors of the constructions. For instance, They work for interior design firms, architectural firms, retail stores, and the design departments of large industries or institutions. Also, some have their businesses. however, Interior designers often specialize in homes, hospitals, hotels, or banks. Some specialize in restaurants, stage sets, or the interiors of ships or airplanes.
Nowadays, there are more and more people who are realizing that the true importance of having a space taken care of by specialists, is very comfortable and pleasant for all the people who will be living in that space. Also, you can get your dream house if you take help from interior and exterior design services as they will take full responsibility for your property and listen to all your needs, and will reflect on options that will utilize its use, based on your budget. In conclusion, Hope you read the whole article and understand the importance of interior and exterior design services for your house.
If you understand the importance of interior and design services for your house, then you can get a dream house from a design by architectural design services ner you.
KPCL Architecture provides the most architectural design services, if you would like to receive our services please use this number and email to stay with us forever.  contact us on email at info @ kpclgroup.com or call us on 02075365536 or 07715527411(Mon-Fri: 9:00-17:00). Or you can visit our office at 28 Vicarage Lane, Stratford, London E15 4ES.
Read Also: