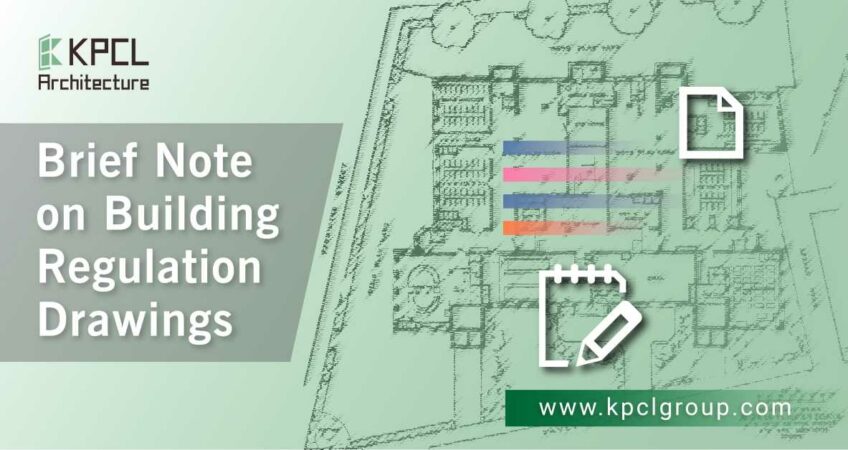 # Building Regulation Drawings
Building Regulations set principles for the safe and sound construction of your building. It includes structural integrity, fire safety, drainage facilities, electrical safety, water supply, and other issues needed for sound accommodation.
# What Are Building Regulation Drawings?
Building Regulation Drawings, unlike Planning Drawings, contains more detailed drawings of the construction and its related settings. And the Regulation Drawings are more based on the subject of construction itself omitting the surroundings as the Planning Proposals will cover it. These drawings are more precise as it takes the building materials, structures, and other hazard precautions into account.
You, Of course, want your construction to remain unharmed for a long time! Building Regulations closely monitors your building and its related concerns so that you don't have to worry about your building's longevity in the long run.
# What Are The Differences Between Planning Permission Drawing And Building Regulation Drawing?
Building Regulation Drawings and Planning Drawings are not the same things. Although at first, they might seem to be similar, they serve two different purposes.
Building Regulation Drawings are requiring after the Planning Permission is obtained. On the other hand, Planning Drawings are needed before the Planning Permission is gained.
A Planning Drawing is a rough diagram showing the important details of the project and its surroundings, in order to maintain all the rules set by the council. On the other hand, A Building Regulation Drawings focuses on the main project and all the necessary facts related to it rather than concerning it with the surroundings.
Moreover, a Planning Drawing is required for getting permission for using the land for any specific type of building. And a Building Regulation gives you permission to start the actual construction process after all the building requirements are confirmed!
# What Do Building Regulations Cover?
The first question that might strike your mind is What a Building Regulation actually ensures you? Well, Building Regulations, in a nutshell, ensures the soundness of your building so that it can withstand the difficulties it may face in its lifetime.
The Building Regulations in the UK was last updated in 2000 and has 14 sections. They are,
A – Structural System.
B – Fire Safety
C – Site planning and resisting contaminants and moisture
D – Toxic materials
E – Sound Proofing of passages
F – Ventilation System
G – Hygiene maintenance
H – Drainage and waste removal
J – Combustion machines and fuel storage arrangements
K – Shield from falling, collision, and impact
L – Maintenance of power and energy
M – Entrance to and use of constructions
P – Electrical safety in residences
A Building Regulation Plan is made taking all these things into account.
# What Is The Importance Of Building Regulations?
Building Regulations are for your absolute need. Would you want your Building to fall captive to any calamities? Obviously no! This is where Building Regulations come from.
Building Regulations ensure the Structural Integrity of your building monitoring the materials used and the security and distribution system used in the infrastructure. This makes sure that you don't face any difficulties regarding your infrastructure in the future.
Also, you get your safety of living assurance as a Building Regulation covers all your home security issues.
# Can I Draw My Own Building Regulation Drawing?
One can draw their own Building Regulation Drawings if they want. There is no obligation about drawing your plans if you have proper knowledge about the basics of the drawings.
But there are some scales and rules that must be followed while drawing them. The suggested scale is 1:100 or 1:50. Moreover, the CAD drawings must be accurate according to the rules set by the Building Regulations.
Sometimes some amateurs without proper training may mess up the whole process as the Regulations given by the Building Control are not understood by them. And this would result in the cancellation of the Building Permissions which would make your work even more tiring. So, it is better to let the experts do the hard stuff for you and you are worry-free about any of it.
# Why Do I Need A Building Regulation Drawing?
If you are still goggling 'Building Regulation Drawings Near me?' you might just want to give it a second thought. In the UK, before starting any construction, you must make sure that you get a Building Regulation Approval. It is a must when you are planning any construction be it a new build or any extension or loft conversion.
Building Regulations set a standard for construction to ensure the safety and soundness of the building in the coming days. And we know even you would want the same for your building.
The Building Regulations check the detailed Drawings that you provide and if it fulfills the given requirements, your Building Permission will be given in no time. Thus, you can start your construction with safety!
# When Do You Need Building Regulation Approval?
Building Regulation Approval is a must in almost all sorts of constructions. According to Building Control, although all your extensions or conversions don't require Planning Permission, the majority of them require a Building Regulation Approval.  Almost all types of building work require approval. They are namely,
1. Building a new project.
2. Erection, extension, or adjustment of a building
3. Change of the Building works
4. Alterations of the Internal structure
5. Building conversions
6. Forming a new structural opening
7. Sustaining a house
8. Installation of a Water closet
# Can I build An Extension Without Building Regulations?
Almost all cases of House Extension Require a Building Regulation Approval even if Planning Permission is not needed. However, there are some cases for new and old constructions that don't require a Building Regulation for its completion. You can check Planning Portal UK for further info.
There are some types of minor extensions that are exempt from Building Regulations. These include:-
* Conservatories, Porches, or other Covered Lawns.
* Carports with a minimum of 2 open sides.
# How Can I Get Building Regulations Approval?
Obtaining Building Regulations is not very big of a hassle. There are two ways you can obtain a Building Regulation Approval. Those are,
* A Full Plans Application and
* A Building notice.
Full Plans are submitted to the Building Control with a detailed explanation of the construction. That includes all the Building Regulation Drawings, full application form, correct fee status, and explanation of how the Regulations are fulfilled. Your application may face any of the 3 consequences,
* The application will accept.
* An application would be declined and
* The application will accept under some conditions.
The other way to get Approval from the Building Regulation is A Building Notice. It doesn't necessarily need a precise explanation, rather you need a completed application form and the correct fee. Minor alterations or DIY Projects are submitted through a Building Notice.
# How Much Does A Building Regulation Drawing Cost?
The cost of getting Building Regulation Drawings varies from project to project. If you do not choose your Architectural Designer wisely, you might end up getting a bad design and resulting in a failed Building Approval. For Affordable and great Drawings, you should consult a reputed Architectural Firm!
If you are looking for Best Architectural Services in London, Keystone Properties & Consultant Limited (KPCL) Architecture is just a call away!
# How Much Building Regulation Applications Cost?
In the UK, for a maximum of your major constructions or alterations, there is no escape from getting Building Regulations. The cost of Building Regulation Applications varies from one project to another according to their caliber.  If you are planning new construction, the planning fee might be around £250. Also, you need to pay a fee of around £500 for further inspections.
For Extensions or Conversions of an existing building, you can expect to pay £200 for planning and a further £250 – £550 for inspections. The more minor alterations like making a new window or door, the cost would be a lot less like £80 to £100. The Building Regulation fees vary according to your local Council. So, you should head to the planning portal for further information.
# How To Choose Right Building Regulation Planner?
Your Building Regulation Approval is a must for the starting of your construction. If you are planning to do your Building Regulation professionally, you might as well consider a few things.
Firstly, you should look for references for the Architectural Firm or Architectural Designer. Then you can ask for their work examples if you want a closer look at how they work.
Then, you should discuss your plan. Tell the consultants about your insight and the budget you have in mind for your plan. Ask their advice regarding any technical alterations of the construction, if necessary. If you are compatible with the ideas of the Designers you will work with, take their advice, and start your work.
Your Building Regulations are one of the key permissions you would want to ensure for starting your constructions. In the UK, if you are looking for The Best Building Regulation Drawings 2020, you are in the right place.
See Also:
Why Are Building Regulations Important?
Keystone Properties & Consultant Limited (KPCL) Architecture is always at your service! Contact us- 28 Vicarage Lane, Stratford, London E15 4ES. Email: info @ kpclgroup.com Cell: 020 7536 5536 Mob: 073 9702 4924