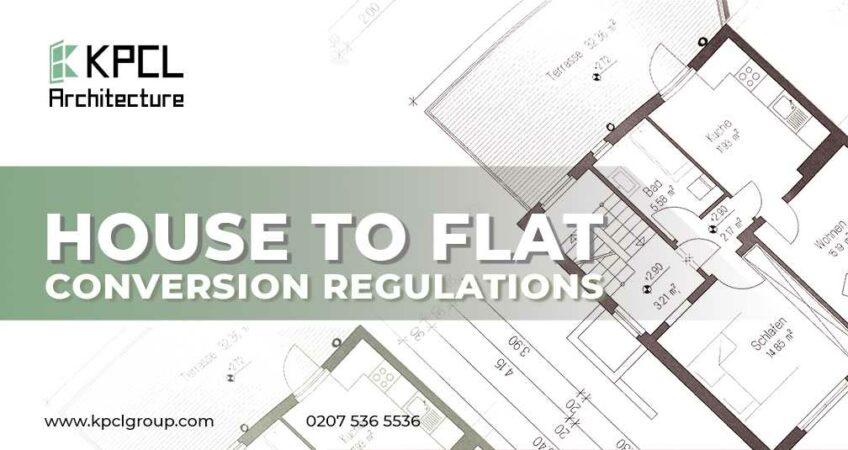 # Flat Conversion Regulations
House to flat conversions has been one of the most popular business strategies these days. Converting houses into flats or splitting the property into units, can give you short-term incomes by generating rents, and also long-term income when you sell your flats. That's why they are in high demand in London. But how do you convert houses into flats? What is the house to flat conversion regulations? Do I need any planning permission for converting? If you are someone who is thinking of converting your house into flats, then I'm pretty sure your head is booming with these questions, demanding the answers. Don't panic, all you have to know is the house to flat conversion regulations and I'm here to answer all your questions one by one, to help you convert your house into flat successfully.
# Do I Need Planning Permission For Converting The House Into The Flat?
Mostly yes, you will need planning permission. This falls in the house to flat conversion regulations. So you need to contact the planning department of your local community. For example, you can convert your loft, your roof, into a flat, which will require you to meet the building regulations. If you need planning or not depends on many factors. The location of your house, if you live in a semi-detached house or detached house or terraced house. It also depends on when the house was erected. If it was erected before 1984, then it will be very difficult to plan, because many modifications have to be done from loft insulations to making new fire regulations. So it will be more costly.
# Do I Need To Apply For Building Regulations?
Yes, you must apply for building regulations after you have the planning permission. Mostly the builders will make the building regulations, also the engineers will visit your site many times before giving the approval.
# How Do I Convert My House Into Flats?
Now, this is the most common question people ask me. That's why I'm highlighting it more. Usually, people who just got their very first thought of converting the house into flats ask me this question. So here are the steps you need to follow.
Step 1
Site Inspections And Drawings
The first thing you should always do is to visit your property with a professional builder or architecture-engineer. And then you will need to visualise how you will fix things and how the people living here in the future will consume the facilities. The architecture will provide you with the design for you. For example, the architecture will tell you if you need any additional bathroom or not, or where to put the bathroom, where to put the kitchen. The people living here will be able to get out easily during an emergency like fire or earthquake. They will also find out any defects in your house, which would otherwise cause serious problems. You can ask them to guide you as well, for example, they can help you get planning permissions from the local authority.
Step 2
Build A Team Before Starting The Work
The successful completion of your work and the profitability mainly depends upon your team. Your team monitors all the different stages of the project for example plumbing, then heating, then electrics, carpentry, flooring, and then painting. The team will have skilled people who are experts in their own fields.
Step 3
Get All The Control Matters And Permissions First
For example, soundproofing, the damping fire test, energy performance certifications, and other tests should be done as early as possible. Make sure your papers are all ready. You should ask your solicitor to draw up a lease for separate dwellings, which you will need while you are trying to sell the property.
Step 4
You Must Start Early
This is something that you must take away from this article. I obviously don't fall on the house to flat conversion regulations, but this is just my tip. You must start early because all these processes can take time, beyond your imagination. It can take months for engineers to visit your site. Arranging water lines, gas, and electricity splits can be a nightmare to arrange. Order materials like bricks, soil, stones as early as possible as it can take ages if you don't order early. Your building contractor should have a merchant account because it will be far more cost-effective, to have order and delivery on time. In short, setting up things early can avoid nasty surprises which you don't expect now.
Step 5
Utilize Your Space
By this I mean if you have extra space then you may need to make a certain conversion in your house before converting into flats. For example, you can convert your loft into a bedroom or you may need to make an extra garage in your garden, for those who will be living here.
# Converting A House Into HMOs
HMOs are houses with multiple occupations that are granted by three or more tenants who aren't part of the same household. There are many advantages to converting houses into HMOs for both the landlord and the person living in the HMOs. The owner will get the opportunity to collect rent from a higher number of tenants, so there's more potential for higher rent. HMOs are mostly preferable for students who are living away from their families, and the rent is affordable as it is divided.
There are many important requirements that you will have to fulfill before converting your house into HMO.
At first, you will have to get the HMO license.
You need to get the gas safety certificate
You may need to install the smoke alarms if you haven't and get
a fire safety certificate.
The HMO room size must not cross the minimum limit.
You may need to make 1 or 2 room conversions. For example, you may need to convert your loft into a living room. Or convert a spare room into an additional bathroom.
Converting a Victorian terraced house or similar properties can be an ideal choice for HMOs.
The location where you convert your house is also very important as you will need to have your HMOs filled throughout the year. The best location will be near the universities, as every year thousands of international students come to the UK for their further studies. They also prefer living in HMOs as the rent is cheap.
# How Do I Increase The Value Of The Rent Of The Converted Flat?
I appreciate those who ask this kind of question to me. Because this is actually the most important question to ask. While converting your house to a flat you also need to think about how I can add more value to my house, to get a handsome rent. So here is what you can do.
Improve the appearance of the front area of your house.
People passing by your house looking for houses for rent will not see the inside of the house first they will get attracted by the outside and then they will see how beautifully you have arranged the inside of the house. But if your house has a dull appearance they will leave even knocking at the door. So you can do the following things to make the appearance look more stunning.
Paint the doors and windows.
Add window shatters.
Decorate the entrance with flowers, trim the grasses, and clean the bushes.
Invest more time and money in the kitchen and bathroom. Add another one if you have to.
Make quality advertising
Make sure all the rooms are well painted inside and smell good.
So that's it, these are my top tips to add more value to your flats; while you convert a house.
To sum it all up, converting a house into a flat can be a huge decision and requires proper guidance and I hope this article gave all the basic things you had to know, and especially all the house to flat conversion regulations.
(Our Next Post: HMO Planning Permission)