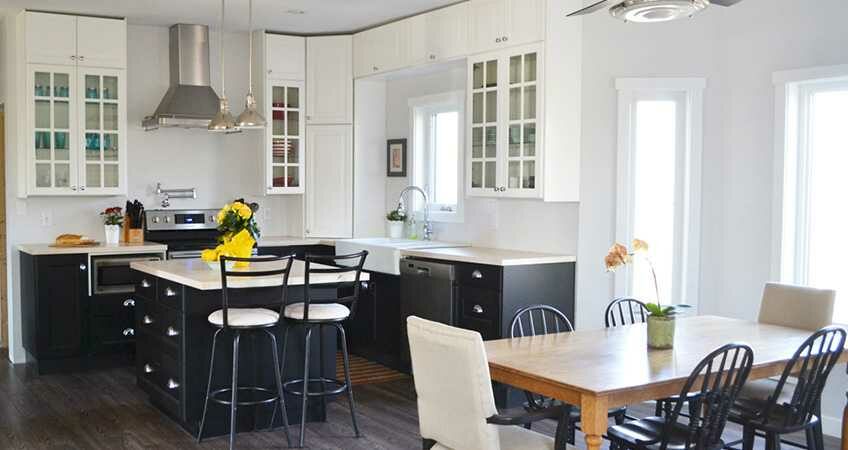 # Kitchen Extension
Kitchens are the heart of a household as it is the place where families cook, eat, socialize, work, and relax. Transforming a kitchen to an open plan space by having a rear extension on the ground floor can turn a kitchen space into a modern inviting area for entertainment. There are different routes depending on your property. From combining adjoining rooms or adding a conservatory to a building a completely new room or rear extension, all can be beneficial.
# How To Plan A Kitchen Extension?
As we get to see a lot more than just cooking at our kitchens, we are getting more eager to extend our kitchens. But an effective kitchen extension is that which is planned to perfection. Keep the following points in mind while planning your kitchen extension.
1. Space
Many people prefer an open plan kitchen extension for many reasons. But if you have a tight budget, you may just need to rethink your use of space. Plan what you want to do and try to manage your space accordingly. You may also seek advice from any consultant in this regard.
2. Ventilation And Lighting
Ventilation and lighting are two crucial factors consider for any of your extensions, especially a kitchen extension. You won't want your kitchen to reek of fish and smoke for sure. So, if you get an effective ventilation system, your kitchen and the whole house in total would smell better.
And add natural lighting along with enough artificial lighting. This would ensure that your kitchen is well lighted during day and night the same.
3. Choosing An Extension Style
Choosing a style of extension is important. But the extension type is dependent on your house and budget. The types of extension are discussed later in detail.
4. Your Budget
Always plan in such a way that the expenses fit in your budget. Unplanned projects may end up costing way more than you normally anticipate. SO, consult and keep the works under your budget.
5. Choose The Right Architectural Designer
You may be looking for architectural services everywhere. And you would find many services claiming to be the best. Some of the well-known services are proven to be the best but they might charge you more than average. So, choose the consultant wisely.
# Do You Need Planning Permission For Kitchen Extension?
Small extensions might not need planning permissions as long as they are under the guidelines of the permitted development. Larger extensions, or addition to a flat, always need permission. As well as listed buildings always need consent, whether the works permitted development.
In order to do any extension without planning permission, the following conditions must be fulfilled.
The area of the extension can not exceed 50% of the total land covered by the property, except for the existing building.
The limit for single-storey rear extension can not be more than 4 meters.
The eaves and ridges of the extension can not outdo the height of the Original building ones.
Single storey rear extension rear wall can not outdo the original rear wall by more than 3 meters for the attached construction and 4meters for the detached ones.
Rear extension without planning permission is allowed only as a single storey.
Multi-storey rear extension rear wall can not outdo the original rear wall by more than 3 meters.
The distance between two storey building and the rear wall boundary must be 7 meters or more.
For extension at any conserved area like public parks or places of natural beauty, planning permission is required.
For any type of side extension, planning permission is a must.
Materials used for the initial construction and the extension must be the same.
The roof pitch of extensions higher than one storey must almost be the same as that of the existing house.
# Can I Draw My Own Plans For An Extension?
For any of your architectural advancements, you surely need a plan and diagram. This diagram should be accurate in accordance with your plans.
You can draw your own plans for an extension, but only if you have enough experience in this regard. You need to consider the caliber of the project and measure your construction accordingly. Moreover, you need to have enough knowledge of whether you will require planning permission or not. In case if you need to get permission, the drawings should be accurately scaled as given by the council.
Further, rough sketches won't just do for your extensions. You need to have CAD expertise to pull off the finest drawing.
If your drawing is once rejected, you need to repeat the whole process all over again! This would cost you both extra money and time. Therefore, it is wise to let the experts handle the hard work of designing a kitchen extension for you.
# Types Of Extension For Your Kitchen
The type of extension your kitchen extension falls under is a crucial factor to consider. The types are discussed below.
1. Combining Adjoining Rooms :
Converting two rooms into an open-plan kitchen design allows the family and guests to perform many functions together in the same space. This is great if you want to combine a kitchen-living room or kitchen-dining room. In this way, you are able to entertain or even keep an eye on the children while cooking in the kitchen. Most kitchens are in the rear so with an open plan there is potential for allowing more natural light into space by adding a bi-folding door to the garden.
There would be an uninterrupted line of sight where you can still see everything while other people are performing other actives such as watching TV or kids playing. The open plan gives you a larger feel to space. As well the kitchen becomes a focal point of the house as you walk in the property. A structural engineer will need to ensure that the wall that is being removed isn't a load-bearing wall.
In the case, the wall is a load-bearing wall your structural engineer will need to do the additional calculation for the type of RSJ (rolled steel joist). This will be acting as a supporting beam. However, this will be an extra cost and might involve more disruption to the construction of your open plan kitchen.
2. Conservatory:
A conservatory is an extra room to the house that is in the rear of the property on the ground floor looking out at the garden. The floor area for a conservatory doesn't exceed 30 square metres of floor area and separated from the building it attached to. Also, it has an independent heating system from the main building. By adding a conservatory could add value to your property to potential buyers.
Especially if you have a south-facing garden, a potential buyer wouldn't mind paying more for the house if there is already a conservatory instead of undertaking the project themselves. A conservatory can use as a new room to the house or an extension of an existing room, where it brings a lot of natural light as the conservatory would be completely glazed. Conservatory kitchen extensions are very desirable for all the reasons.
3. Rear Extension:
If you have enough room in your garden extending out is a good option. But it does cost a lot more than the other option for extending your kitchen. But having a kitchen rear extension means you can create your own dream kitchen and how you want the layout to be. Depending on the layout of your property there are different types of rear extensions:
4. Single Storey Extension:
Single story extensions are simple extensions built onto a part of the house whereby one side (or more) of the extension attached to the property on the ground floor at the back of the property in the garden area. This is a great way of adding more space to your existing kitchen. By having more room there could be a dining space, extra workspace, or a bigger area for appliances. The design of the roof should work with the all look of your property, and if not it will affect your neighbors sunlight.
5. Double Storey Extension:
Two stories or multi-story extension is like a single story extension built to a part of the existing building. Although, the chances for neighbors to appeal against your extension are greater as it might be overlooking or blocking some of their natural light. We would strongly tell you that you get a letter from the planning department before you start your construction. Also, talk to your neighbor in case they do have some issues about it so they don't feel left out. But, two-storey extensions to your home give you that extra space on the ground floor and on the first floor as it could be a more bedroom or an en suite for the master bedroom. This extension will also increase the value of your property if you decide to sell in the future.
6. Side Return Extension
Side return extensions are a common choice for a Victorian or Edwardian era house. These houses usually have a gap at the side of the house, which is rarely used and called dead space. By adding a side return you are not taking anything from your garden space but are adding to the kitchen space that you already have, by adding skylights this will bring more light into the area and be utilizing the dead space. This is the smallest type of rear extension which means smaller jobs and cheaper than the other extensions. Thus, it is perfect if you have such a construction.
7. Wrap-Around Extension:
The wrap-around extension is the biggest out of the kitchen extension ideas. It is so as it requires more work but they do add a larger space to the property on the ground floor. A wrap-around extension is a side return and rear extension together in an L shaped space. There are two options for a roof it could have a slope or be flat. This does give you the opportunity to completely open up the kitchen and have as much natural light coming from the top as well as having a full-length view of your garden with bi-folding doors. You could even add a utility room or a downstairs WC or walk-in storage and use all the space available.
# Planning Permission
It is always best to contact your local planning officer first as they can suggest to you what will be appropriate. Planning regulations can vary from region to region. However,  there is a set of planning developing guidelines (you can see on a previous blog; Essential guide for rear extension. Special consideration needs for a property that locates in a Conservation area or a National Park as you'll need to work with your council planning permissions to know exactly what modification you can do.
# Kitchen Layouts Plans
Planning the layout of your kitchen, you will need to keep in the back of your mind the basic necessities of each kitchen requirements (fridge freezer, sink, cooker). Then add all the other features that will go around them. How much storage is available to work with, and if you want certain worktops used for different functions. Depending on how much area you have to work with,
There are different styles of kitchen layouts that do:
1. The galley kitchen is a setting where cabinets are placed all in one line on one wall. This goes well in small and narrow kitchens.
2. The double Galley kitchen is where the cabinets are on two walls opposite to each other. The narrow kitchen uses this style to get enough storage and basics into the kitchen.
3. The L-Shape kitchen layout is a popular layout in small and large kitchens equally. It offers good storage and provides a good effective working triangle.
4. The U-Shape kitchen layout is usually fitted for a medium kitchen and it can have the three main necessities (fridge freezer, sink, and cooker) all on their own side in the kitchen. This also gives you an excellent triangle working area.
5. The kitchen island is a great way of breaking between the space and can use a breakfast bar.  Moreover, extra storage, more worktops, and another area for a great sink or a cooker can be placed separately from the wall.
# Extension Price
All the above extensions are different prices but as a general cost should estimate from £1,260. Further, expect to spend an additional £2,000 for an extension that is plastered finish giving a cost of £25-50,000 for the footprint of around 25 square metres­.  If your builder takes payment depending on the area, be certain to pay an average of £80 per square meter for low-cost extensions. The total cost of extensions UK of the project might vary depending on the specifications of the kitchen itself including plumbing, electrics, materials, and appliances.
This is why it is always good to sit down and consult with your designer about every detail you want in your extension especially starting off with your budget as they will be with you all the way through the development of your new extension.