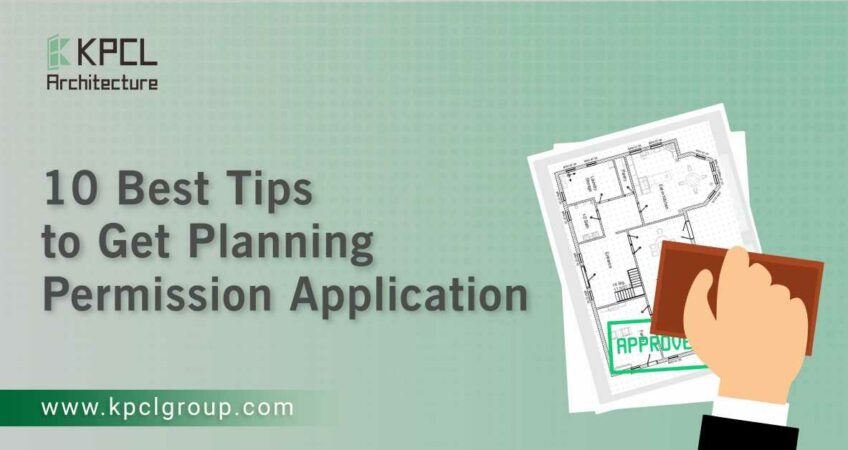 # Get Approval Of Your Planning Permission Application:
Are you worried about the Approval of Your Planning Permission Application? Contact KPCL Architecture to increase the chances of the success of your Planning Application.
# Planning Permission Application In The UK:
The planning permission is the consent of your local authority. It is basically to prevent inappropriate development by a proposed building project.
The planning permission enhances the value of the property. And helps you to create opportunities for development.
# How To Get Planning Permission Successful?
It can be a lengthy, stressful, and risky business full of trouble and uncertainties. But, usually, the potential reward outweighs the pain. But one more thing, make sure that your project gets in best start with our professionals' tips.
The success of your Planning Application depends on the integrity of your preparation. And the accuracy of your designs and the essence of your bond with the relevant parties. With all these principals, we have presented the best tips below-
# 10 Best Tips To Get Approval Of Your Planning Permission Application:
1. Pre-Application:
Developing a successful planning application could be complicated and time-consuming. So, don't get afraid, Start talking sooner rather than later with your local authority.
Basically, councils offer advice on pre-application. And allowing you to discuss your proposed project with them. And get an awareness of what you can or can't do with your property. Taking advantage of this early conversation which is very essential, if you want to save time, money, and yourself in the future.
You can get your design on the right track from the start by knowing the boundaries. And can save you to pay for revisions later.
The procedure generally includes the submission of information about your proposed plan to the local council. Instead, they will be able to provide feedback on any potential areas of concern. And the pre-application is also viewed by officers as a proactive step. And also take into consideration during the planning process.
2. Create Quality Designs:
The first thing you must follow while you want to Get Approval is proper and quality Designs. A proper design can mediate between innovation and policy. Whether a small extension or a brand new building. A good design should always include accurate scaling and an intelligent layout. And should strive to preserve and improve the natural environment's character.
According to Ufuk Bahar, the Urbanist Architecture, "Good design can work wonders for you. Good design can help you increase your chances of getting the planning permission you want."
3. Ensure A Pre-Planning Meeting:
Once you have established the basic fundamentals of what you want to build then find out if you can have an initial meeting with the planning office. Some councils charge this service, but it's usually worthwhile even then.
Keep along with a design and develop details and ask if the officer can detect any possible problems. So you can actually spot potential issues, you can save time and expense to figure them out later on.
Most of the local authorities gladly accept an opportunity to share and explain their policy. And a visit to their offices should be time well spent to discuss your proposals. You can also request if they have standard plans, especially for garages. Apart from satisfying local requirements, such as its location and the impact on neighboring property. It is considered acceptable.
4. Research, Consult And Reference The planning Policy Of Your Local Authority.
The document sets out your local authority's planning precepts and may come with a guide to building in the countryside. For example, roof and wall coverings that are not acceptable, ridge heights, etc. all of which are likely to impact the design of your house.
The document sets out the planning precepts of your local authority and may come with a guide to building in the countryside, e.g. improper roof and wall coverings, slope heights, etc. all of which are likely to have an impact on your house design.
It is important to research the planning policies that directly impact your project, in order to achieve successful designs. In your development plan, local planning authorities (LPAs) may have multiple overlapping policies. And Make sure you recognize which ones will affect the application's outcome.
Those things will get quantified with any proposal. These are often referred to as considerations of material preparation. It is up to your local planning authority to make the decision on how much weight each should get. Here are just a few obvious examples:
Loss of sunlight.
Highway problems including traffic generation, vehicle access, safety on the highway.
Noise and any kind of disturbance.
Effect on listed buildings and areas of conservation.
Physical infrastructure Capacity.
Building design layout and density and finishing materials.
Overshadowing and losing perspective of Smell and smoke.
Loss or damage to trees.
Overview and loss of Privacy.
Uses of incompatible or inappropriate.
5. Contact With All Relevant Parties:
A professional architect and design company can do all the policy research for you. And can decide which planning issues will directly affect your proposal. For example, your plan may involve assessments of flood risk, tree surveys, archaeological investigations, and any number of technical reviews.
Your consultant will avoid technical issues from undermining your proposal by approaching the appropriate organizations in advance. Undoubtedly, the company will use its planning experience to create an appropriate design and access statement. And it will be used to persuade the LPA that your project is actually in line with the applicable policy.
6. Hire A Skilled And Professional Architects:
Most people decide not to hire an Architect or planning consultant. Because of saving money, they do so. But hiring a skilled and professional Architect can potentially be a great investment. That actually saves time, money, and effort.
Hiring an expert and professional planning consultant or designer is really useful. These experts will have taken on thousands of residential and commercial projects. And so will know the inside and outside planning applications. They will use this expert knowledge to design your dream home that has the best chance of being approved. And to unlock the maximum potential of your space.
There are many requirements for securing FPP. So as a novice, you might not be as quick to put together a successful application. But to anyone whose job it is to do this day in, day out. It would be best for a design professional or a reputable planner to do that for you.
7. Talk To Neighbors:
Keep your neighbors informed of your plans until they get official notice. Whether or not you like your neighbors they can greatly affect your project. And it's always useful to talk about your plans with those in your neighborhood.
They may clearly understand site info that might prove helpful. Or lead to a complete redesign that will make it less likely to cause an object to get lodged. Even your neighbors may be helpful enough. And share their thoughts about the professionals. That they've used and offer better budget advice.
8. Build A Good Link With Your Planning Officer:
Developing a positive relationship with your planning officer is absolutely essential. This person will most probably be responsible. In the course of making the final decision regarding your application. The liaising process with planning officers requires a bit of finesse.
You will have a planning officer assigned to your project at the time of submission. You might discover them asking you to make changes to your plans, but this should not stop you from doing so. If your design faced outright rejection, they will not focus on changing it. So just listen to what they say and make concessions.
If completed quickly, these alterations shouldn't hold back too much. Because as sooner as your planning application completed. And the faster you can build them.
You may think about hiring a skilled architect and planning consultant. Because they'll have experience in working with planning authorities. Also, a planning consultant can monitor your application as it is being processed. And if an issue arises, they can cooperate with the officer to help achieve a positive result.
9. Be Patient:
Developing a successful planning application could be complicated and time-consuming. So, don't get afraid. And keep waiting for the approval of Your Planning Permission Application.
Basically, we don't like to hear bad news but as we mentioned planning isn't a quick process. And the approval can take about 8-10 weeks and that's when no modifications are necessary. If your project is signed off, you might also face Planning Conditions. Such conditions are requirements that you will have to fulfill before you get to build.
Our personal advice is to expect the unexpected. And be patient when it comes to building projects. The process will work out on its own, with the right professionals by your side.
10. Refusal And Appeal:
Don't get disappointed, if your Planning application gets refused by the council. Don't lose your hope in the hired architectural firm or the architects, keep trying. If your application becomes refused, discuss it with your planning officer.
He will definitely do something to reach a compromise. And permit you to submit a revised application without incurring any additional charges. If you are still disqualified, the next step is an appeal, which must be filed within six months of your rejection. For further advice please read our How to Deal with Planning Application Refusal.
# Conclusion:
Our team can manage this process and work with you to develop a planning strategy aligned with your goals. We will handle departments of local authority planning on your behalf. And by providing advice and guidance throughout the planning application process.
At KPCL, We offer planning packages. And that will guarantee you have one of our architects at your fingertips throughout the entire process. We will provide your plans, and secure the planning you need.
(Our Next Post: Brief Note on Building Regulation Drawings (2020))